Meet the Team
Meet the friendly faces that make up the team of Hyperluxe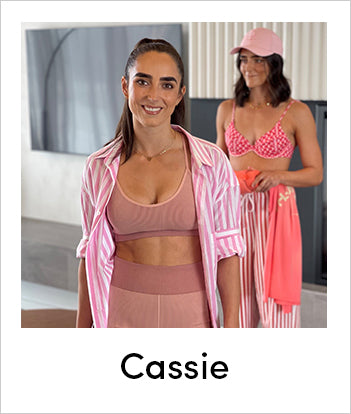 Cassie
She's in charge of what we stock and when we stock it! Since founding HyperLuxe with her mum Jenny and sister Madi, she's always had a good eye for the latest fashions and designs. This is why you won't find Cassie in store often, as she's busy ordering and buying our upcoming collections.

On her days off you can find Cassie down by the beach, or out for a bite to eat and drink!
Close
Madi
The go to girl for all of your activewear needs. Madi is the Co-founder of HyperLuxe alongside her sister Cassie and takes on multiple roles within the company. A day for Madi involves managing the staff, social media and website - as well as distributing and managing all the stock that arrives at the warehouse.

With such a busy role, Madi makes sure she takes the time to enjoy going to the gym in the early morning - as well as spending the weekend catching up with friends.
Close
Ruby
The photographer, delivery driver and part time dog sitter! All jokes aside, Ruby is a core part of the Hyperluxe fam and helps us with a lot of our behind the scenes tasks. You can find her at our most recent store, Karrinyup where she'll assist you in finding some great pieces to add to your collection!

In her spare time Ruby is keeping active at Boom Fitness, or playing beach volleyball with friends. She loves to test out new restaurants around Perth paired with a fancy cocktail!
Close
Meg
One of our newest additions to the Hyperluxe fam. She is the friendly face you will find in our Applecross store & loves all things animals and Beyond Yoga! She's recently taken up studies in Vet Nursing, hoping to one day work in a wildlife conservation! When she finds spare time

She loves to take her cocker spaniel Dudley (@dayswithdudley) down to the beach for a sunset swim.
Close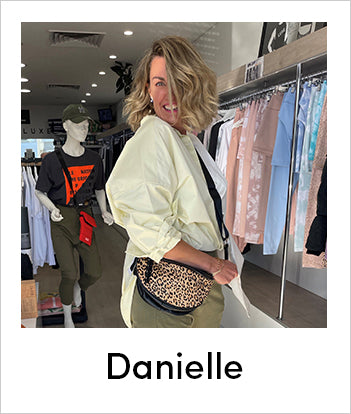 Danielle
Our OG casual here at Hyperluxe. She is known for her amazing sense of humour and unmatched customer service - everyone leaves with a smile on their face after being served by Danielle. She's great at helping customers find their next favourite purchase and styling them from head to toe.

In her spare time you can find her traveling all around WA with the family.
Close
Jenny
Jenny started HyperLuxe with her two girls Cassie and Madi, and has recently taken a step back into a part-time role - or as she likes to call it, 'early retirement'! Her days in the office consist of managing the accounts and assisting Cassie with any ordering and buying.

On her days off she enjoys heading down to Dunsborough with Greg and her pup Emi.
Close
Kylee
Kylee is our ultimate yes man! She's up for anything and is an amazing all rounder. If you need any outfit inspiration or gift ideas, she's your go-to girl. You can find her jumping between our Karrinyup and North Beach stores all throughout the week, in her spare time she loves spending time with her 2 kids, and relaxing by having a glass of wine.
Close
Lauren
Lauren is our amazing casual at Karrinyup and is definitely the perfect fit to the HyperLuxe team. She joins the rest of the girls at Boom fitness in the mornings and spends her weekends going for beautiful coast walks with her friends, accompanied with a cup of coffee of course! To wind down, she'll enjoy a crossword puzzle and listen to podcasts - you wouldn't believe she also raises four children! What Lauren loves most about working at HyperLuxe is that she gets to work with the most amazing team for a local family run and operated business.
Close
Phoebe
Phoebe is our Applecross go-getter and is determined to help shoppers find their perfect fit! Her favourite thing about working at HyperLuxe is that she gets to talk to and get to know all of our amazing Applecross customers. When she's not at work she enjoys taking her dog Charlie down to her local beach, otherwise you'll find her at Daisies Cottesloe before a game of netball!
Close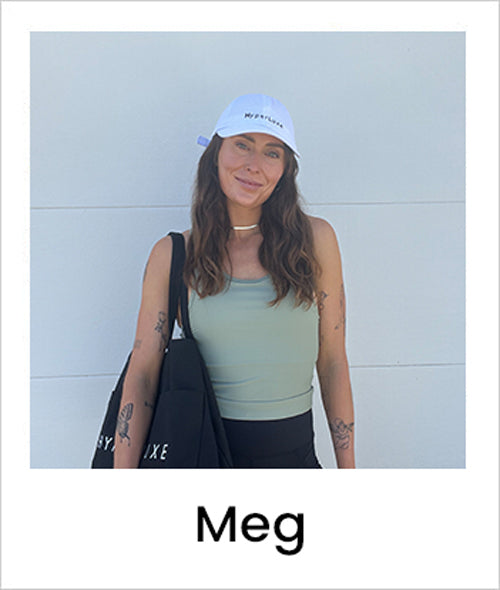 Meg
Meg is a Canadian-born Aussie-livin' activewear enthusiast. After living over east for many years, Meg is loving the coastal change in Dunsborough and the lifestyle that comes along with it. Catch her at an early gym class most mornings or doing yoga on the weekend. Meg feels lucky to work at HL where she tries her hardest to resist spending all the money she makes on her ever-growing athleisure wear wardrobe. What's one more matching set right? ;)
Close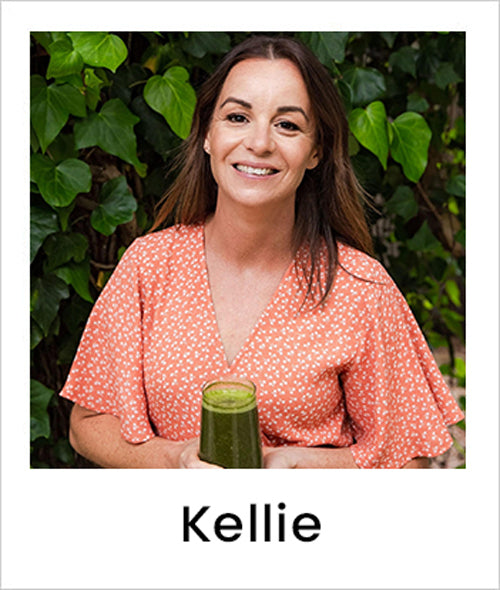 Kellie
Kellie is our Dunsborough superstar! In her spare time Kellie enjoys beach trips to Eagle Bay and Bunkers Bay, walking her Border Collie Gypsy, and spending time with her husband and two teenage kids. When Kellie isn't working at Hyperluxe, she is working in her other job as a Nutrition Coach.
Close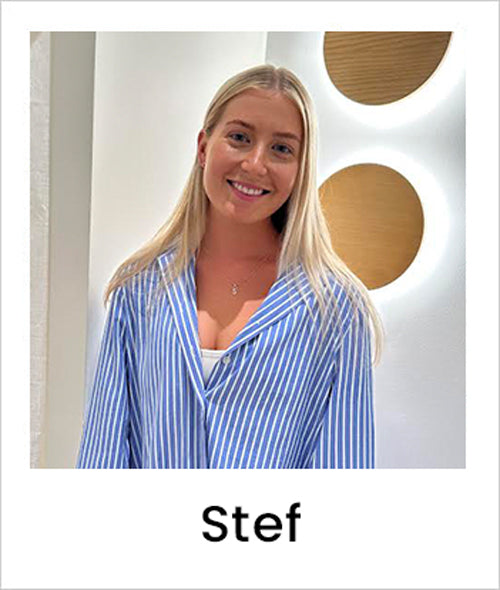 Stef
Say hello to Stef, one of our newest team members at HyperLuxe! Catch her in action at our Karrinyup store every Saturday and Sunday. Stef is a vibrant and enthusiastic addition to our team. When Stef isn't busy serving up the latest trends in activewear and athleisure, you can find her soaking up the sun at the beach or enjoying quality time with her friends.
Close
Moni
You can find Moni at our North Beach store on Wednesdays and our Karrinyup store Thursdays, Saturdays and Sundays! I love trying new restaurants in Perth with friends and spending quality time with my big family.

My favourite thing about working at Hyperluxe is that it is a small family and women run business. I love the team along with all of the clients that come through.
Close
Bridget
Our Weekend Girl at North beach, Bridget loves helping customers find their perfect fit. Her days at Hyperluxe involve chatting to customers, organising the store room and the occasional car trip to drop off stock to our other stores.Bridget loves a good crossfit class in her Hyperluxe activewear- of course! Followed by a beach walk with a coffee and a croissant. Her favourite part of working with HyperLuxe is the team! "All the girls are so fun and bubbly, Hyperluxe has such a supportive environment and it makes coming into work a breeze"
Close
Anouk
Anouk usually work's between the North Beach and Karrinyup stores. Her favourite part is being able to style and help customers find their perfect outfit.Outside of work you can find Anouk nice & early down at Yelo with a coffee followed by a walk or pilates. You will then usually catch her studying at the library (very exciting) or going out for a nice dinner with friends on the weekend. "My favourite thing about working at Hyperluxe is the environment the girls have created. It is such a tight knit community to be part of"
Close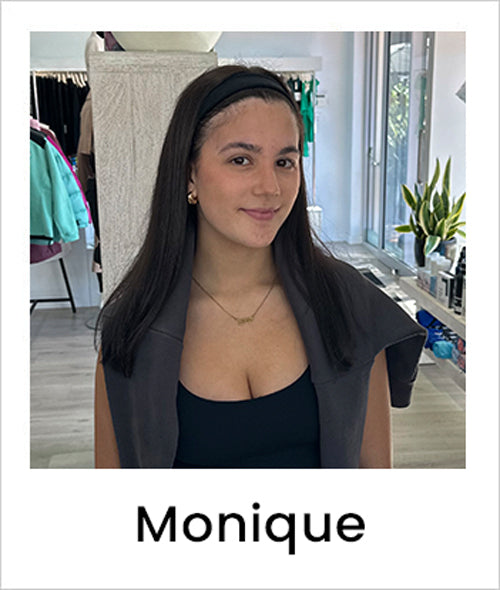 Monique
Our newest Applecross superstar Monique who you can find Instore on Mondays, Fridays & Saturdays! Mon loves to interact with customers & help them find an outfit that makes them feel confident and comfortable. Outside of work you'll find Mon at the gym and going on beach walks with friends.
Close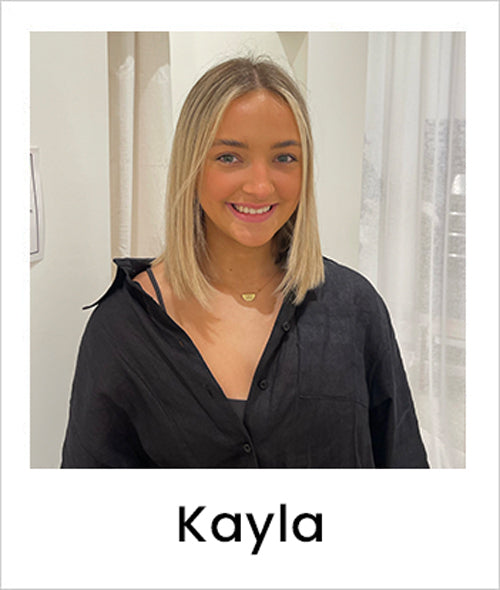 Kayla
You can find Kayla at our Karrinyup store every Monday and Saturday! If she's not at HyperLuxe you can find her training at the gym or spending quality time with friends. Kayla says "What I love most about Hyperluxe is working within a team of like minded girls and finding new activewear for my wardrobe!"
Close
Mikenzie
Mikenzie is a part of our team at Hyperluxe North Beach, mainly on Sundays. Outside of work Mikenzie love's spending time at the beach, going to the gym & likes to fit in a reformer pilates class where she can, in between work and uni. Mikenzie says her favourite part about working at Hyperluxe is "the friendly team and amazing customers I get to work with (Everyone is sooo lovely) I also don't mind getting to have a stunning wardrobe full of a athleisure woohoo"
Close
Want to join the Hyperluxe family?
If you are interested in opportunities at Hyperluxe please drop us an email!