The Ultimate Under $100 Xmas Gift Guide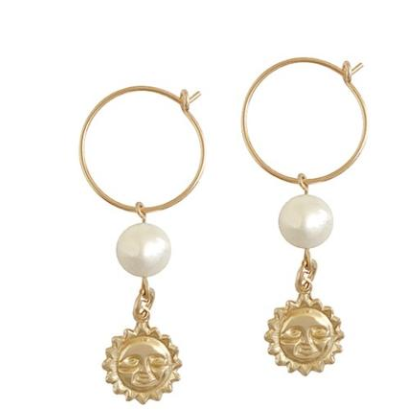 With the silly season well and truly underway and Christmas in a matter of days, we've pulled together the ultimate gift guide for under $100 so you can avoid the last minute Christmas shopping dash!


Burn Bright
This age-old classic of gifting candles has been given a cheeky makeover by the people of Damselfly Candles. The brand is renowned for their tongue-in-cheek and humorous quotes with the new range having some funny spins on festive quotes, putting the "silly" in the silly season. Our fav is "When I think about you I touch my elf"!
RRP $44.95
Summer Sunshine
For us, more is more when it comes to jewellery. Whether you like gold or silver, Misuzi has a range of jewellery to add a unique element to any outfit. We're loving the Misuzi Pearl and Sun Charm Earring in Gold. These 14k gold filled earrings feature a small hoop with dangling pearl and sun face. They are the perfect everyday earrings to dress up a simple tee and jeans ensemble, or will match perfectly with a white Chrissy dress and some red lippy!
RRP $69.00
Get Shorty
A rising trend currently sweeping Instagram by storm is the return of the bike short. This trend has been the forefront of the sports luxe look this season and is a versatile piece to take you from studio to street. The new high rise range from Onzie has a high compression feature as well as a mid-length thigh height to ensure ultimate performance.
These bike shorts come in black and leopard print so whether your loved one is more conservative, or wants to take a walk on the wild side, they are the perfect summer staple to nail this effortlessly sporty yet fashionable vibe. For inspo on how to style check out Kim and Khloe's insta - both are big fans!

RRP $99.00
H2O for those on the go
There's nothing better than heading down to the beach or playing backyard cricket on a hot Christmas day. Although these activities are part of what makes Australian Christmas's so great, it's important to remember that heat dehydrates the body so we need to drink plenty of water - even on Xmas! S'Well have introduced a new range of beachy prints on their bottles, sure to be this summer's must-have accessory. These BPA free, stainless steel bottles offer maximum insulation with no exterior condensation and will encourage you to stay hydrated whilst supporting a plastic-free lifestyle!

RRP $59.95
Hooray for Vooray
Like the bike shorts, we thought we had left the fanny pack in the 80's, but with new sleek styles, we couldn't be more excited about the return of the fanny pack! Vooray has a compact fanny pack that is perfect for those who live their life in motion. Strap it around your waist for the perfect running companion or wear it across your chest as a funky accessory on a night out.

RRP $45.00
Saturdays are for the Boys
As we have all been told many…many times, Saturdays are for the boys so what better way to celebrate being with the boys than heading down to the beach this summer in a pair of Rhythm board shorts. These cotton board shorts feature a stylish vintage design that is the perfect beach accessory for this silly season.

RRP $69.99
As a gift from us to you this Christmas we're also taking the stress off and offering free Christmas gift wrapping on all online purchases, so you can enjoy the more important things during the holidays: good health, family and love!
shop our new arrivals