Rhianna: Sports Luxe Trend Setter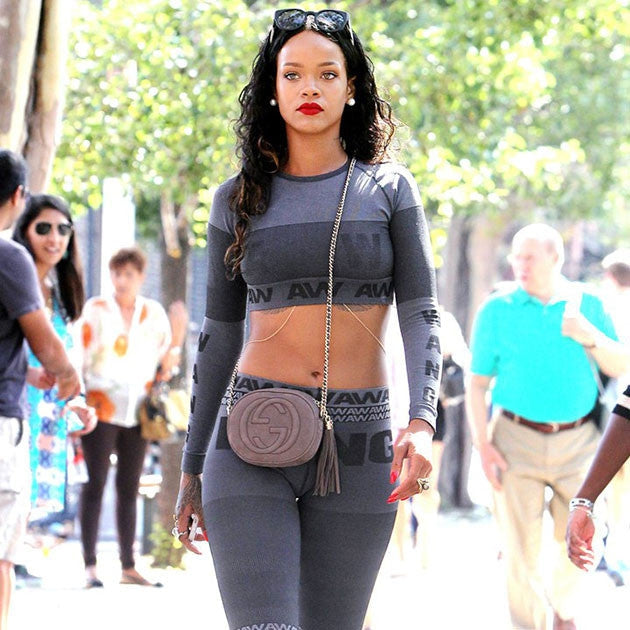 Introducing the Queen of sports luxe: our girl Rihanna. RiRi can do no wrong when it comes to luxury activewear; she essentially created the sports luxe vibe that we've all come to know and love. As the original trend setter Rihanna is well versed with the classic legging and bomber combo, and we've all seen her combine sweet kicks, sweats and a luxe crop, taking to the streets with just the right amount of swagger.
We've curated five of her best luxe looks and combined them with a few of our style tips so you're able to recreate the looks for yourself. Rocking the sports luxe look like Rhi Rhi isn't as hard as you'd think, all it takes is a few essential closet staples!
1. Owning a great pair of leggings or two (or five!) is vital for anyone's wardrobe - whether they're your gym staple or your casual luxe go-to when you're heading out on the weekend. Rihanna can rock leggings of any kind or style, and transforms activewear into any time, anywhere wear. It's effortless, and it's comfortable - and we want you to have that too! These Varley Tights are right up RiRi's alley, and we think you'll dig on them as well: they're comfy, stylish, and can be rocked absolutely anywhere.
2. Get Rihanna's lax crop shirt look with this Arcadia Pheonix sweater crop. We know RiRi is sporting a short sleeved crop, but we're sporting the sleeves right now while the weather is still up and down. This crop is perfect for yoga class, throwing on over a sports bra on the way to and from the gym, or for casual brunches or drinks on the weekend with your babe or your bestie.
3. Rihanna is known for her love of a classic pair of track pants or sweats, and we can't endorse it enough. Whether you throw them on to head to the gym in the colder months, pull them on for a run in the morning, or style them with a pair of sassy heels to create that luxe sports look like RiRi, they're gonna give you style points no matter what. We're huge fans of these Empire Rose loose sweats, available in a few different colours and ready to get you all comfortable.


4. We're not out of the woods yet when it comes to chilly nights and early mornings, which is why we recommend that everyone gets their hands on a puffy bomber jacket to wear - well, pretty much anywhere! Rihanna knows where it's at with puffy jackets, and she loves combining it with both her luxe sportswear and with a classy night time getup as a throwover jacket. This L'Urv Moonshine jacket is the perfect accompaniment for any luxe wardrobe.
5. Of course, we couldn't forget about footwear. Sneakers are always the shoes of choice for anyone digging on luxe activewear, and we've got all the best brands on offer. Rihanna is a huge lover of Adidas, and so are we - which is why these black Adidas PureBoost sneaks will be your new go-to sneakers for the gym, the beach and the cafe up the road. They match with pretty much anything, and they're so comfy that you'll never want to take them off.
shop our new arrivals